A collection of press clippings, special projects or appearances including Garrison Keillor.
February 1, 2010: 7:00 p.m.
February 1, 2010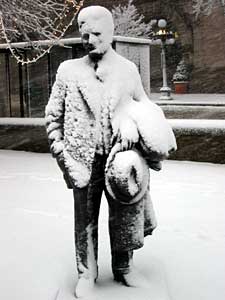 Cold and snowing in St. Paul. The big red Kenworth is parked in the alley behind the Fitzgerald, loading in the house and road gear for Thursday's Cinecast. GK videotaped a walk around downtown St. Paul for the pre-show, with stops at Candyland, Mickey's Diner, the statue of F. Scott Fitzgerald in Rice Park, and Heimie's Haberdashery (for a red tie). Tomorrow the TV truck arrives.